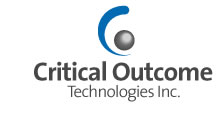 Careers

At Critical Outcome Technologies Inc. (COTI), we believe that our hard-working and dedicated employees are the key to our success. COTI values entrepreneurialism, diversity (in both background and perspective) and enthusiasm. This is reflected in our people. We all share the common goal of being a world leader in drug discovery by providing our valued partners with targeted libraries of novel, optimized lead compounds.

Our environment values innovation, honesty and integrity in the way we do our work. COTI encourages trust, respect for each individual and a supportive team environment. Our objective is to form a partnership with employees, where we provide the environment and tools needed to accomplish goals and develop meaningful careers.

We pride ourselves on providing challenging and rewarding career opportunities for energetic individuals who are equally passionate about helping save lives by enabling accelerated development of new treatment options.

At the moment, we have no opportunities.

Contact Us

Critical Outcome Technologies Inc.

700 Collip Circle Suite 213
London, Ontario
N6G 4X8

Reception: 519-858-5157

Fax: 519-858-5179

Email: info@criticaloutcome.com
© 2008 Critical Outcome Technologies Inc. All rights reserved.